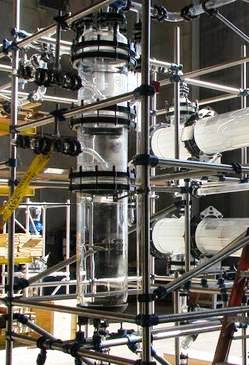 Sulfuric Acid Dilution Unit
UD Technologies are leading manufacturers, Suppliers, and Exporters of Sulfuric Acid Dilution units.
Application of Dilute Sulfuric Acid
Diluted Sulfuric Acid is used in the chemical industry for Chemical Reactions and in Battery industries, Dilute Sulphuric Acid used of Different concentrations.
It serves as the electrolyte in the lead-acid storage battery commonly used in motor vehicles (acid for this use, containing about 33% H2SO4 and with a specific gravity of about 1.25, is often called battery acid).
Two different strengths of Sulphuric Acid streams and concentrated Sulfuric acid can be mixed to have a definite concentration of Sulfuric Acid to reuse.
Generally, Sulfuric acid dilution is carried out with commercial strength of 98% and water. Dilution of Sulfuric Acid Produces Enormous heat. This heat transferred to Dilute sulfuric acid and eventually produces heat which leads to a temperature near boiling point (in the range of 50% or more). This causes vapors of dilute sulfuric acid which is difficult for Operation and safety
Their goal is to obtain diluted sulfuric acid at a required concentration and temperature.
Principle of Sulphuric Acid dilution:
The concentrated acid and water are mixed in the dilution unit. This reaction is very exothermic and the acid after dilution has a high temperature. The diluted acid is cooled in an Appropriate Glass and /or graphite heat exchanger considering the strength of Dilute Sulphuric Acid
Characteristics:
Accurate calculating of the thermal balance, optimized design, and selection of the best suitable equipment.
SKID enclosing all the equipment for acid dilution, pipe connections, the control of the cooling and security equipment. The user can directly connect the delivery pipes for the concentrated acid, the dilution water, and the cooling liquid.
The following equipment, made from anti-corrosion materials, can also be supplied separately:
Dilution mixer in Glass- Graphite – PTFE.
Glass -Graphite Heat Exchanger.
Pumps
Above units are offered for Continuous operation, which shall give an instant supply of Dilute sulfuric acid. This can be used to fill Battery or IBC Storage.
However, we also offer a Batch process wherever it is required.
Advantage:
Savings thanks to smaller storage needs and decreased transport cost.
Rapid and Instant Operation
Diluted sulphuric Acid ready for use.
The flexibility of use with regard to nominal capacity.
The very large possible range of concentration and temperature.
Application:
All processes requiring a continuous and important quantity of sulphuric acid.
Questionnaire:
Please provide the following details
1.Capacity in terms of Diluted Acid, Kg/Hr
2.Initial Concentration of Sulfuric Acid
3.Final Concentration of Sulfuric Acid
4.Required Automation and accessories like PLC, pump
#sulfuricaciddilution #dilutesulfuric acid #batteryacid #fertiliser #edibleoil #dyes #gujarat #maharastra #rajasthan#MP #telangana #andhrapradesh
Please also visit
https://www.linkedin.com/pulse/anhydrous-hcl-gas-generation-calcium-chloride-route-samir-shah
http://udtechnologies.com/mineral-acid-treatment/hcl-gas-generation-systems/
[/vc_column_text]