Instrumentation and Accessories for Glass Lined Reactor
UD Technologies from Vadodara, Gujarat. offers a range of Instrumentation and Accessories for Glass Lined Reactor
Glass Lined Reactor(GLR) is employed  for reactions in a pH range below 7 or the Acidic range,
When dealing with strong acids like Nitric, Sulphuric, Hydrochloric, or Phosphoric acids, stainless steel reactors are non-sustainable and hence corrode over time.
To avoid that, reactors with glass lining as thick as 0.2mm are used because glass easily sustains acids. Glass offers complete protection against strong acids preventing wear and tear in the long run.
Glass Lined Reactors are not suitable for alkaline operations because borosilicate commonly used in glass easily reacts with high pH solutions and degrades.
Glass-Lined reactors (GLR) is employed for following Purposes
The reaction –Liquid-liquid, Liquid-Gas, and Solid -Liquid Phases
Distillation – Evaporation- Batch and continuous
Crystallization To run reaction and Other Operations
Liquids -Liquid Extraction
To run reactions and Other Operations, the Production Person required Instrumentation and Accessories for Glass-lined Reactor
r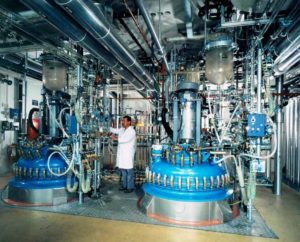 Instrumentation for Glass-lined Reactor
Instrumentation is essential for the measurement, operation, and control of reactions and Unit Operations
UD Technologies offers Instruments to measure Temperature and control vacuum and RPM.
Temperature Sensor and Indicator for Temperature Sensing
Generally, the Reactor area is considered Flameproof due to the presence of Flammable solvents. We provide suitable  PT-100 Sensor Length considering thermowell length and Temperature Indicator enclosed in Flameproof Box. Please give the following data
Thermowell Depth in MM
Whether Reactor Area falls under GMP or not
Any Specific Requirements like the requirement of Duplex Sensor or RTD or Output of Temperature indicator required MODBUS and others
Variable frequency drive for varying RPM of Agitator Motor
Variable Frequency Drive Panels, offered by us, are known for efficiently controlling the speed of  electric motor and the feed pump
Considering the Reactor area as Flameproof, UD Technologies provides a set of two panels.VFD shall install in Non-Flameproof Control panel with Fan to remove hot air from the panel. This panel is to be kept outside Flameproof Area. 2nd part is a flameproof panel from which RPM shall control with the help of VFD of a Non-Flameproof Panel. Please give the following  details to quote
Agitator Motor Specification and HP
Distance between Two Panels
Further, we also offer VFD Panels for Pumps to save energy.
Vacuum Controller for Reactor
Vacuum Controller Gives Controlled Vacuum Range to have maximum Condensation. In Buk Drug Plants, Different product needs different solvents and so different boiling points. The vacuum Controller helps to set the vacuum such that the boiling point of the solvent is enough higher than the coolant temperature to have efficient condensation. The principle of vacuum controller is explained in the following link
Please give the following details to quote
Vacuum Pipeline Size going to Reactor
Flameproof /Non-Flameproof
Any Other specific Requirements like MODBUS Output
Instruments size and specifications may change with the size of GLR and Process and Automation requirements. Please give the size of GLR  and  Specification for Instrumentation
Accessories for Glass Lined Reactor
UD Technologies offers a range of accessories that can be used in Glass Lined reactors as well as in all other glass-lined equipment, regardless of the original manufacturer.
To operate safely with chemical processes in glass-lined equipment, UD Technologies offers specially designed accessories:
Distillation Set up over Glass lined Reactor and Addition vessels
Gasket systems and PTFE T  bushes for safe sealing
Dip pipes, and fittings for loading and emptying vessels
SS PTFE Lined braided hose Pipes for transferring reactor contents
Full-view Sight Glasses for Layer Separation
Multipurpose PTFE Lined manway covers for sealing
FEP/PFA Lined Bottom outlet valves
Cleaning in place equipment-PTFE  Spray Balls
Distillation set up over Glass Lined Reactor
UD Technologies provides  Overhead distillation Assembly over Glass lined Reactor (GLR) or Glass-lined Equipment for Batch and continuous  Distillation as per  Process requirements. There may be a difference in Height of the Nozzle from the mounting floor for AE type Glass Lined Reactor and CE Type Reactor.
Please visit weblink
PTFE T  Bushes for Manhole and Nozzles for Glass Lined Reactor
UD Technologies provides PTFE Nozzle T-Bush for Protection against Corrosion and erosion of the reactor nozzle. It is suitable for GLR Nozzle, Reaction vessels, and tanks
PTFE Nozzle T-Bush Made from Virgin PTFE Material and available in standard size from 1" to 12" and for manhole cover 350 x 450 NB and 500NB and length of 100 mm
MS PTFE Lined Dip Pipes for Gas Feeding  and Liquid Charging
UD Technologies offers MS PTFE Lined Dip pipe, PTFE Lined Sparger Lined and J Type Dip Pipe in various shape and size as per the glass lined reactors and also customize as per the customer's requirement.
Lined dip pipes are manufactured from a carbon steel fabricated construction with a PTFE liner both inside and Outside Pipe and Nozzle liner and Sparger from Virgin PTFE Material. We provide Extra reducing flange on dip pipe which allow fitment with different  sizes of  nozzles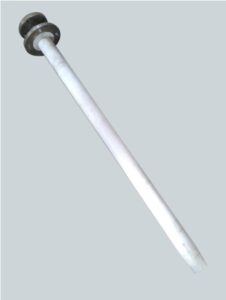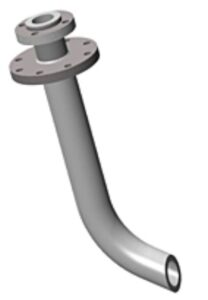 Technical Specifications
Pipe: A106 Gr. B, Seamless
Flange : IS2062, A105, SS304, SS316
Liner: PTFE (Both sides)       Drilling: As per Nozzles standards
Details Require for Dip Pipe Requirement:
1. Mounting Nozzle Size on GLR
2. Connection Nozzle Size at Top
3. Straight / Tapper / J Type
4. Flange Drilling Dimension
5. Length 6.Type of Nozzle -Straight or Taper 7. Type of GLR  Agitator
Sight Glass for Layer Separation and Pipe Lines
Sight glass facilitates visualizing Layer separation after liquid-liquid extraction and settling. It also helps to visualize the flow in Metallic and Polymer pipelines.UD Technologies Also offers double Window Sight Glass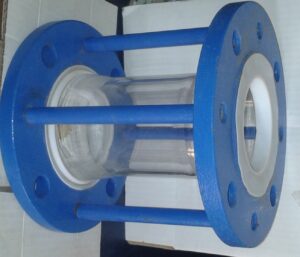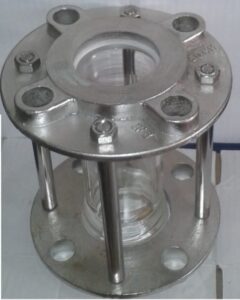 UD Technologies supplied different types of Sight glass
Size: 25NB to 300 NB
Process requirements
MOC OF End Flange: MS/SS/PP
SS  Braided PTFE Lined Flexible Hose Pipes
SS  Braided PTFE Lined Flexible Hose Pipes to take Reaction media for Filtration, to unload corrosive liquids from the reactor and tanks.UD Technologies is an exporter and supplier of Stainless-steel flexible hose pipes. All our products are extensively hydro-tested and made leakproof. PTFE Lined Flexible hose pipes come with Flange Connection.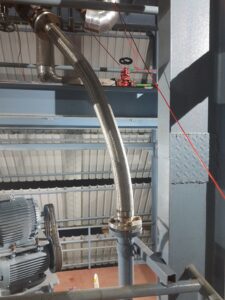 Specifications of SS Braided PTFE flexible hose assemblies
Hose ID available (in inch):   1" to 6''
Temperature range: -200 to +1800 degrees Celsius
Testing: Hydro Testing
Pipe materials: SS, Corrugated PTFE
External Braiding: SS
Details Require for SS  Braided PTFE Flexible Hose Pipes  Requirement
Connection Nozzle Size
 Flange Drilling Dimension
End-to-End Length
Operating Pressure and Temperature

MS PTFE Lined Pipe Line and Components for Corrosive Gas and Liquids discharge and collection

Flush Bottom Lined Valve
Lined Ball Valve
Lined Feed Pipe
Lined Pipe Spools
lined Elbows, Tee. Cross.Reducer

Chlorine Manifold

for chlorine transfer with multiple tonners
Chlorine Industrially comes in tonner(Cylinder having 900 Kg Chlorine Gas). Multiple Tonners are required to complete the reaction for Large Batches and continuous reactions.UD Technologies provided a Manifold so that one can use chlorine
Please also visit the following web Links for More details
Vacuum Controller for SS Reactor and Glass Lined Reactor for Batch distillation
Distillation set up over Glass Lined Reactor