Rotary Evaporator-Rotovap- Vacuum Rotavap
UD technologies are manufacturer,Supplier and exporter of Industrial and Large Scale Rotary Vacuum Evaporator from Vadodara,India and Suppliers to Indore,Hyderabad,Chennai,Mumbai and Ahmedabad
Rotary Film Evaporator is also known as rotavapor or rotovap or rotavap
Principle of Rotary Film evaporator
The  Thin film Evaporator  principle is the most universal method, as it is an efficient  and gentle way to separate liquids. The rotating flask continuously covers a large surface area with a thin film, which is ideal for rapid heat transfer. Fortuitously, the film also ensures uniform heat distribution without local heating.
The facility to work in this evaporator under full vacuum further facilitates evaporation at as low temperature as possible. These features render rotary film evaporator to be ideally suited for evaporation of heat sensitive material. It is equally successful for evaporation of suspension in crystallization processes drying of powder/ granule etc. Evaporating flask due to rotary motion forms thin film and vapor rising get condensed and collected in the receiver flask. Solvent removal causes concentration and rotary motion results in very less contact time with the heat transfer surface.
Our Large Evaporators are  user Friendly and Single Person can remove Hot Evaporating Flask .
Rotary Evaporator is available with Four Options considering safety and Validation purposes
Standard Non-Flameproof Rotary Evaporator- Standard Flameproof Rotary Evaporator-GMP Non-Flameproof Rotary Evaporator-GMP Flameproof Rotary Evaporator
Salient  Features of  Rotovap :
1. Movable Model, sleek, compact with minimum footprint and available with 10 liter,20 liter;50 liter and 100 liter
2. Glass Distillation set up and Equipment can be customized as per applications and process Requirement
3. Best vacuum sealing with Dry Mechanical Seal.All Contact parts are of Glass or/and PTFE, which extends its life and reduces downtime
4. A special arrangement is provided such that a single person can dismantle hot flask safely
5. Operator Friendly control panel-Higher rated microprocessor based with large digital display
6. Rugged Instruments to have a long service life
8. Models available with a parameter of Safety and validation
9. Glass Distillation set up can be customized as per Client's Requirement
10.Combo models are available for Solid-Liquid Extraction and Concentration
UD Technologies  understands your requirements of Rotary Evaporation and can supply Customised Rotary Film Evaporator and helps in Optimising Process Conditons to get fast ,efficient concentration witn Maximum Solvent recovery.
Rotary Evaporator 5 liter-20 liter-50 liter Specifications
 Rotary Film Evaporator 5 liter
Rotary Vacuum Evaporator 5 liter is designed and developed for Solvent removal and concentrate for Heat Sensitive Materials. Rotary Extractor 5 liter is its variant in which Simultaneous Solid-Liquid Extraction and Concentration of Extract takes place. This reduces Valued Operation Time
Considering Research and development purposes, In Rotary Evaporator small Evaporating flask like 2 liter-1 liter-500 ML can be attached for sample evaporation
Technical specifications 
Model

RE –05-SW -02

Electrical connection req.

230V, 50 Hz, (1 Phase neutral)

Total Power consumption

2 KW

Rotation drive

0.18 HP, Three Phase, Weatherproof TEFC Motor

Bath Lift

0.12 HP, Three Phase, Weatherproof, TEFC motor

Speed Control

20 – 200 RPM with Electronic control and digital display-Frequency Converter

Heater

2 KW, Weatherproof

Bath heating control

Electronic, On-Off with PT-100 & Digital display

Bath Movement

Motorized

Vapor temperature

PT-100 with Digital display

Sealing of Vapor Shaft

Borosilicate -Glass, and PTFE with Mechanical Seal

Bath temperature

Up to 180

o

C

Process Timing Indication

Digital

Electric Control Panel

With push buttons, switches and electrical safety protection, Weatherproof

Bath

Double walled Stainless steel with insulation

Glass Evaporation Set up

5-liter Evaporating Flask, 0.2 m

2

upward condenser, 2-liter receiver with drain valve, Soxhlet Extractor

Housing and trolley

MS Powder coated, Castor Wheels Movable and Lockable-German Make

Supporting Structure

MS powder coated

Flanges and Gasket

MS powder coated Flanges and Gasket- 100% PTFE
Different Glass distillation assemblies are available on request. We also offer GMP and Flameproof Options. Generally, in GMP option SS 304 Rotary Evaporator is offered.We also offer SS 316 Rotary Evaporator
Rotary Vacuum Evaporator – 20 liter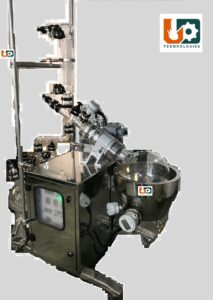 Electrical
Voltage 230 V (1Ph, N, G) /200 V (1Ph, N, G)/440 V (3Ph, N, G)
Frequency 50 Hz.(60 Hz on request)
Power consumption 4400W(In case of 4KW Heater)
Standards
In the case of Flameproof; All electrical instruments and electrical parts covered in Flameproof Enclosures duly certified by CMRI-Dhanbad for Gas Group I IIA and IIB
ATEX Compliant Models are available
Safety
Safety coated glassware Yes, Except the evaporating flask –
Optional
Over temperature-Separate monitoring circuit with manual reset Error if
protection of the bath temperature is above  the set value
Rotation
Soft start
Stop in case of Overload
Bath Displacement Limited by limit switch
For, Flammable Solvents Flameproof version suitable for Gas group I, IIA and IIB
Validation
GMP Model is available
FAT Documentation shall be provided
Display
Bath temperature Yes (1 °C steps)
Vapor temperature Yes (1 °C steps)
Set rotation speed Yes (1 RPM steps)
Set bath temperature Yes (1 °C steps)
Actual vacuum-Optional (1 mm Hg steps)-Other units available on request
Set vacuum-Optional- (1 mm Hg steps)-Other units available on request
Performance
3.5 Liter Water condensation with 40 deg c temperature difference between Bath and boiling
Vacuum 750mm Hg with RPM 90
http://udtechnologies.com/rotary-evaporator-by-ud-technologies/
Rotary Film Evaporator -50 liter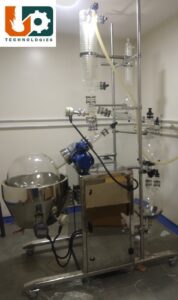 The UD large scale evaporators 20-50-100 are perfectly designed for a lot of different distilling processes, from standard evaporation without vacuum control up to complex distillation processes with vacuum control.
Aspects such as safety, convenience and cost savings have been considerably taken into account during the development of the large scale evaporators. This is reflected in various unique product advantages.
Rota Evaporator 50 liter allows Chemist to distill 5.5 Litre/hr Water equivalent or 16-liter Acetone with 40 deg c Temperature Difference
Leakage Rate: Less than 1 mbar/minute
Validation
GMP Model is available
FAT Documentation shall be provided
Display
Bath temperature Yes (1 °C steps)
Vapor temperature Yes (1 °C steps)
Set rotation speed Yes (1 RPM steps)
Set bath temperature Yes (1 °C steps)
Actual vacuum-(Optional) (1 mm Hg steps)-Other units available on request
Set vacuum (Optional) (1 mm Hg steps)-Other units available on request
Leakage Rate: Less than 1 mbar/minute
Material of Construction
Gear head CI Powder coated and SS 304 parts
Heating bath Stainless steel 1.4301 (AISI 304)
Heating element Stainless steel 1.4301 (AISI 304)
Glass Borosilicate 3.3
In contact with product FDA compliant materials
Cooling
Consumption Depends on solvent to get condensed; 250 liters/hr to 450 liters/ hour at 5 deg C Temp. Difference
Restriction max. 2.7 bar abs. without pulsation
Our models have four variants as shown in model selection chart
Validation
GMP Model is available
FAT Documentation shall be provided
Performance
5.5 Liter Water condensation with 40 deg c temperature difference between Bath and boiling Point and under
Vacuum 750mm Hg and RPM 60. Leakage Rate: Less than 1 mbar/minute
For Further Information
Solvent Losses during Batch Distillation
Rotary Evaporator Solvent chart