Rotary Evaporator -100 liter
UD Technologies offers Rotary Film Evaporator for Industrial Evaporation of Heat-sensitive Solutions with a capacity of 100 Liter -50 liter-20 liter.
Aspects such as safety, convenience, and cost savings have been considerably taken into account during the development of large-scale evaporators. This is reflected in various unique product advantages.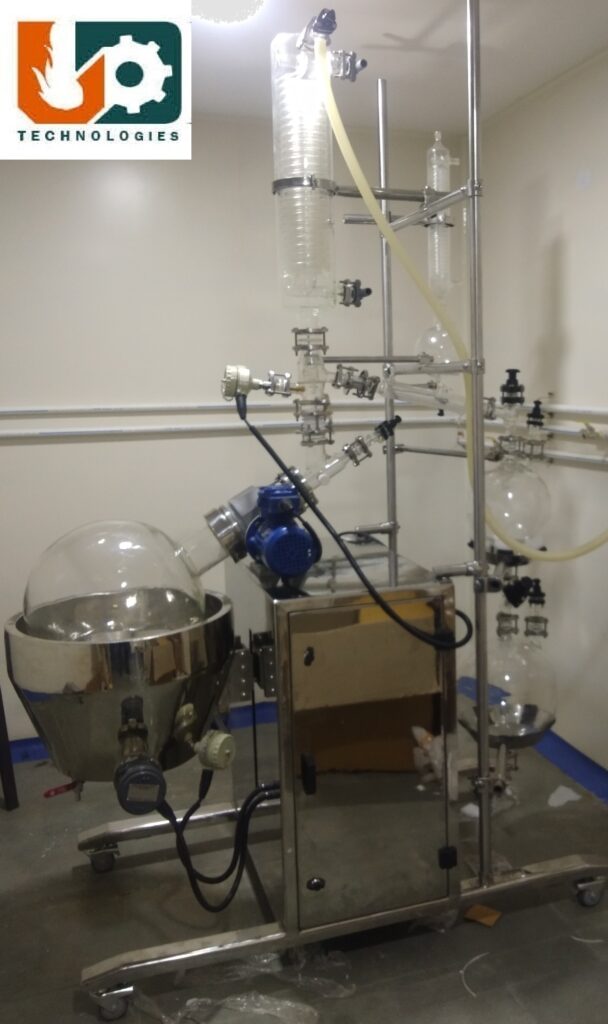 UD rotary evaporator 100 has simple operation, Long Life Vacuum Sealing, and user-friendly features with different glass components considering Process applications.
Different Options are available considering Validation, Safety, and Process.
Considering the large volume of Evaporating Flask, Special Arrangements are designed to handle, remove and fix single-handed.
Available with a rugged control panel with a clear vision and self-explanatory functions with digital displays for bath temperature, vapor temperature, and RPM are standard features.
It can be offered with different condenser configurations like downward condenser, double condensers, short condenser, etc.
The motorized bath lift is a standard supply.
Speed control from 10 to 80 RPM with AC drive.
Flask drive interlocked with bath lift
Flask support supplied for easy fixing and removal of rotating flask
Trolley mounted system permits easy movement from anywhere
Validation
GMP Model is available
FAT Documentation shall be provided
Display
Bath temperature Yes (1 °C steps)
Vapor temperature Yes (1 °C steps)
Set rotation speed Yes (1 RPM steps)
Set bath temperature Yes (1 °C steps)
Actual vacuum-(Optional) (1 mm Hg steps)-Other units available on request
Set vacuum (Optional) (1 mm Hg steps)-Other units available on request
Leakage Rate: Less than 1 mbar/minute
Material of Construction
Gear head CI Powder coated and SS 304 parts
Heating bath Stainless steel 1.4301 (AISI 304)
Heating element Stainless steel 1.4301 (AISI 304)
Glass Borosilicate 3.3
In contact with product FDA compliant materials
Cooling
Consumption Depends on solvent to get condensed; 850 liters/hr to 1500 liters/ hour at 5 deg C Temp. Difference
Restriction max. 2.7 bar abs. without pulsation
Our models have four variants as shown in the model selection chart
Overall dimensions
Length: 1800 mm, Breadth: 1200 mm, Height: 3500 mm
Validation
GMP Model is available
FAT Documentation shall be provided
Performance
7.5 Liter Water condensation with 40 deg c temperature difference between Bath and boiling Point and under Vacuum 750mm Hg and RPM 60. Leakage Rate: Less than 1 m-bar/minute
Please also visit webpages of related Products
http://udtechnologies.com/industrial-glass-equipment/rotary-evaporator/
https://www.linkedin.com/pulse/solvent-losses-batch-distillation-subsequent-vapors-how-samir-shah