Bromine Production Plant from sea Bittern
UD Technologies are manufacturers, Suppliers, and exporters of Bromine Production plant from Gujarat, India
Bromine industry is an important part of  Large chemical family. Bromine and bromine compounds have wide application in different fields. Primary using of bromine compounds are in flame retardants, drilling fluids, brominated pesticides (mostly methyl bromide), and water treatment.
Utilization of Bromine  are  in the manufacture of dyes, insect repellents, perfumes, pharmaceuticals, and photographic chemicals.
Applications of other bromine compounds  are  in a variety of applications, including chemical synthesis, mercury control, and paper manufacturing
Bromine in Nature available in Sea water in PPM levels.Sea Brine-bittern formed in Salt farms after removal of salts contains Bromine in 2-6 GPL Level. Highest bromine content available in the Dead Sea at Israel and Jordan. Bromine recovery and Production comes from extraction from salt brine by reactive stripping.

SALIENT FEATURES:
Production of 99.9% bromine from Salt bittern-brines
Debromination of brines and waste bromide stream down to 0.1% Bromine
Proven and state of the art process know how
Bromine recovery from industrial bromide
Glass and glass-lined steel as ideal highly corrosion and diffusion resistant material
Highly efficient Hot process
Bromine recovery Production  From Sea bittern
UD Technologies are manufacturers, suppliers and exporter of bromine production plants with the proven process know How.
Bromine is widely used in the manufacturing of Fine chemicals, pharmaceuticals and Fire retardant chemical
Bromine is available in nature as magnesium bromide in seawater in minute quantities say 0.065 Gram /liter. With the solar evaporation of water in salt farms result in crystallization of salt. After removal of salt, remaining mother -sea Bittern is rich in Bromine content say 2.5-4 GPL. This content can be economically recovered using the hot process to produce elemental bromine
As Bromine itself is highly corrosive manufacturing process is at a higher temperature, UD Technologies offers complete plant with special corrosion resistant material of construction with purity complies with Indian Government standard IS 2142

Brief process Description for Bromine Production plant: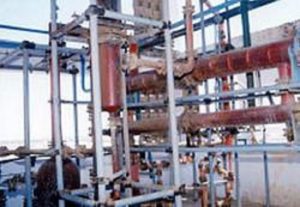 The process divides into three steps:
Displacement of Elemental Bromine from Sea Bittern in Oxidation reaction by Chlorine
Steam Stripping of Bromine and condensation
Purification of Bromine to remove chlorine and moisture.
Main Reaction Column is Combined Reactive Stripping Column. First, two steps proceeds in the same column. Step 3 –Purification involves separate Distillation Column.
Varied Bromine content in feed and varied flow rates are major factors for design of Plant . Due to this design, it is possible to run the plant in different seasons with consistent purity.

Product Quality Specification:
Strictly adheres with Indian Government standard IS 2142
Bromine –Wt%: 99.5%
Chlorine- Wt % > 0.05% -0.08%
– Glass Cooling / Chilling Heat Exchangers Phase Separator – Glass Bromine Purification Column Pure Bromine Condenser – Glass Vent / Guard Condenser – Glass Bromine Reboiler – Glass Bromine Product Cooler – Glass
Crude / Pure Bromine Collecting Receiver – Glass
Salient Features of Bromine Production Plant 
Bromine offer as per IS2142 Quality and Dry Bromine (Optional)
Energy Efficient Process and Smooth Production process which reduces Ownership cost
More Efficient Process
Plant Design considering safety
Plant design is such that minimum Instrumentation is required
Can offer PLC Controlled Plant
We offer different Material of Construction Options Like Glass Lined /PVDF –Wherever, Tantalum  Possible
Physical and chemical Properties of  Bromine :
Name:

BROMINE

Mol. Wt.:

159.808

Kg/Kmol

Melting Pt.:

266

K

Boiling Pt.:

331.9

K

Density (293K):

3.119

g/cc

Hf°:

0

Kcal/mol

Gf°:

0

Kcal/mol

Hvap:

7210

Kcal/Kmol
Please also visit the following related products
Bromine recovery Plant from Sodium Bromide-Potassium bromide-Hydrobromic acid 
Dry HCL gas Generation system from Hydrochloric acid
Accessories and Instrumentation for Glass-Lined reactor
[/vc_column_text]