Large Scale Rotary Evaporator is essential equipment in Concentration of Heat Sensitive products by Gentle Evaporation.
Large scale Rotary Evaporators are larger versions of laboratory Rotary Evaporator. Special care is needed to design and manufacture as Evaporating flask is huge to handle and consists of more valuable feed. A special arrangement is designed to remove Evaporating Flask. Vacuum tightness is comparable to International standards. Wetted parts are only Borosilicate glass and PTFE to ensure no black particles or rubber.
Rota motion increases vapor formation and concentrate materials. Rotary Evaporator is generally known also as Rotavapor.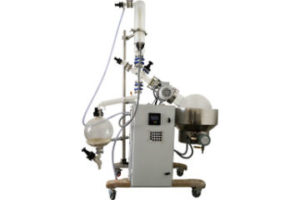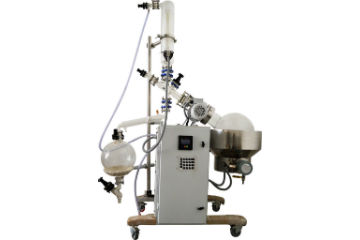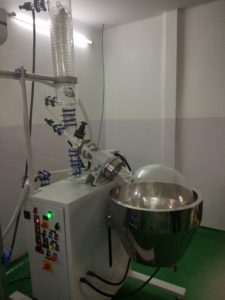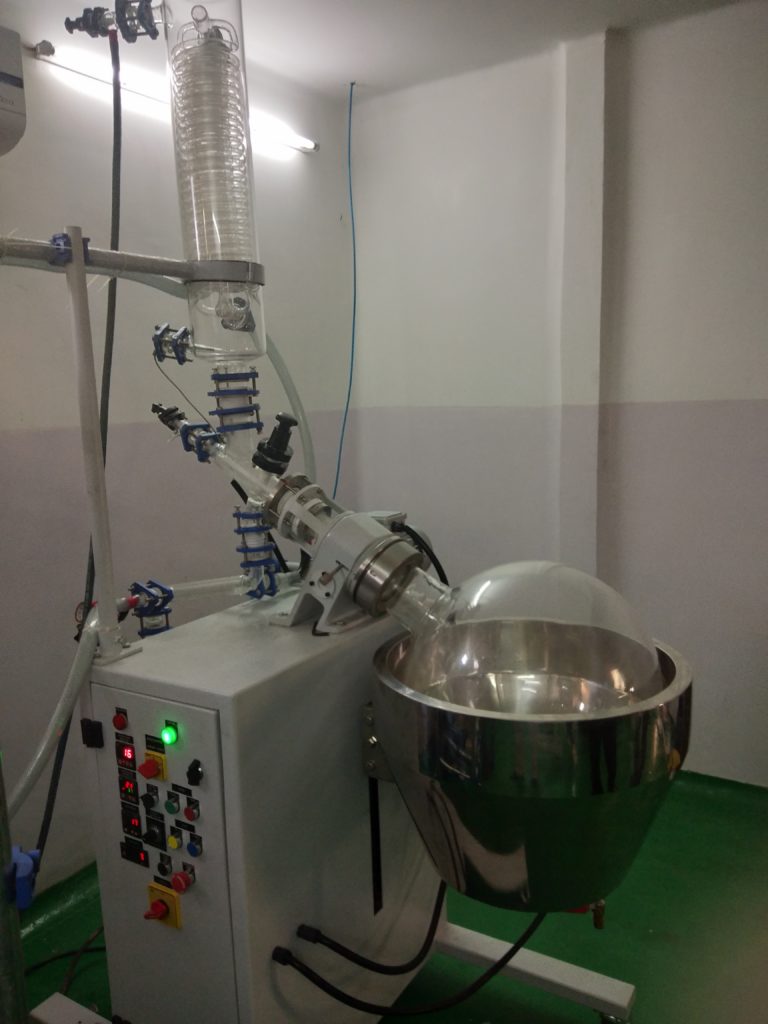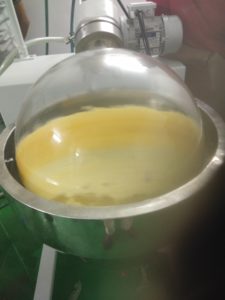 standard Available sizes are
1.10 Liter Rotary Evaporator 2. 20 Liter Rotary Evaporator 3.50 Liter Rotary Evaporator 4. 100 Liter Rotary Evaporator
Options for Selection are available like
Validation:Standard/ GMP
Safety: Non-Flameproof-Flameproof-Explosion Proof
Different Glass Distillation Set up
Power Supply suitability- Different power options available as per specific Power supply
Automation-Semi Automatic – PLC Controlled (With or Without SCADA)-Microprocessor Based
Different variants in Glass Distillation set up are available for different process application such as Bumping nature of the feed, drying or coupled with solid-liquid extraction. Rotary Evaporator can be customized according to your need.
We have a practice of continuous improvement of our products so that our customers get a better and better product.
We have recently introduced improved features for better Performance of 20 liters and 50 liters Rotary Evaporators.
Reduces contact time with Heating surface.
Improved Evaporation rates.
Which also gives better purity.
Fast production.
Technical specifications – Large Scale Rotary Evaporator – 20 Liter
| | |
| --- | --- |
| Model | Standard Non-Flameproof |
| Electrical connection req. | 230 V, 50 Hz, (1 Phase + neutral) |
| Total Power consumption | 4.5 KW |
| Rotation drive | 0.18 KW, 1440 RPM, Single Phase, Non-Flameproof |
| Bath lift | 0.18 KW, 1440 RPM, TEFC motor, Single Phase, Non-Flame Proof |
| Speed Control | 20 – 90 RPM with Electronic control and digital display |
| Heater | 4 KW, Non-Flameproof |
| Bath heating control | Electronic, On-Off with PT-100 & Digital display |
| Bath Movement | Motorized |
| Vapor temperature | PT-100 with Digital display |
| Bath temperature | Up to 180oC |
| Process Timing Indication | Digital |
| Electric Control Panel | With push buttons, switches and electrical safety protection, Weatherproof |
| Bath | Double walled Stainless steel (SS 304) with insulation |
| Glass Assembly | 20 lit Evaporating Flask, 0.5 m2 upward condenser, product cooler, 10 liter receiver with drain valve, 10-liter Evaporating flask ,5 liter Evaporating flask |
| Housing and trolley | MS Powder Coated; Castor Wheels Movable and Lockable-Germany Make |
| Supporting Structure | MS Powder Coated |
| Flanges and Gasket | MS Powder Coated and Gasket- 100% PTFE |
| Evaporation Performance | 3.5 Liter Water evaporation with Vacuum 740 MM Hg and 40 deg C temperature Difference between Bath and Vapor Temperature, Coolant –Chilled Water |
| Safety Features | Electrical Safety-Overall Protection of the control panel with MCBmechanical Safety: Limit switches are provided to restrict Up and Down Movement; |
| Documentation for Validation | Available IQ, DQ and PQ Documents |
| Overall dimensions | Length: 1100 mm, Breadth: 800 mm, Height: 2400 mm |
Technical Specification -Large Scale Rotary Evaporator -Standard Non-Flameproof 50 liter
| | |
| --- | --- |
| Model | RE 50 SN -01: Standard Non-flameproof |
| Electrical connection req. | 440V, 50 Hz, (3 Phase + neutral) |
| Total Power consumption | 7.5KW |
| Rotation drive | 0.5 HP, Three Phase, Non-flameproof TEFC Motor |
| Bath Lift | 0.5 HP, Three Phase, Non-flameproof, TEFC motor |
| Speed Control | 20 – 90 RPM with Electronic control and digital display-VFD |
| Heater | 7 KW, Non-flameproof |
| Bath heating control | Electronic, On-Off with PT-100 & Digital display |
| Bath Movement | Motorized |
| Vapor temperature | PT-100, Non-flameproof with Digital display |
| Sealing of Vapor Shaft | Glass and PTFE, Long Life Single Dry Mechanical Seal |
| Bath temperature | Up to 180oC |
| Process Timing Indication | Digital, Nonflameproof |
| Electric Control Panel | With push buttons, switches and electrical safety protection, Nonflameproof |
| Bath | Double walled Stainless steel (SS 304) with insulation |
| Glass Assembly | 50 lit Evaporating Flask, Vapor header, Condenser, Receiver Spare-1 50 liter Evaporating Flask |
| Housing and trolley | MS Powder coated, Castor Wheels Movable and Lockable-German Make |
| Flanges and Gasket | MS Powder coated Flanges and Gasket- 100% PTFE |
| Evaporation Performance | 5.4 Liter Water evaporation with Vacuum 740 MM Hg and 40 deg C temp. Difference between Bath and Vapor Temperature, Coolant –Chilled Water |
| Safety Features | Electrical Safety-Overall Protection of Nonflameproof control panel and heater with MCB; Mechanical Safety: Limit switches are provided to restrict Up and Down Movement. Overall torque cut out |
| Documentation | FAT Documentation-DQ, IQ and OQ, Operating Manual |
| Overall dimensions | Length: 1100 mm, Breadth: 800 mm, Height: 2500 mm |
For more details Other models and customization; Please call +91-7990397491 or Email to [email protected]
Sharing interesting article
https://www.linkedin.com/pulse/anhydrous-hcl-gas-generation-calcium-chloride-route-samir-shah
https://udtechnologies.com/mineral-acid-treatment/hcl-gas-generation-systems/