Rotary Evaporator -Rotavap- Rotary Vacuum Film Evaporator
UD Technologies are Leading manufacturers, suppliers, and exporters of Rotary Vacuum Film Evaporator from Vadodara, Gujarat, India. 
Principle :
Rotary Vacuum Film Evaporator also is known as Rotary Film Evaporator or Rotary Evaporator is essentially thin Film Evaporator
Thin Film Evaporator is used for Concentration of Heat sensitive materials by gentle evaporation such as Phospholipids, Enzyme, Orange juice. The different evaporator can be  employed depending on viscosities like Rotary Film Evaporator-Wiped Film Evaporator –Falling Film Evaporator-Rising Film Evaporator
The rotary evaporator principle is the most universal method, as it is an efficient, last and gentle way to separate liquids. The rotating flask continuously covers a large surface area with a thin film due to Rotary motion, which is ideal for rapid heat transfer. Fortuitously, the film also ensures uniform heat distribution without local heating.
The facility to work the unit under full vacuum further facilitates evaporation at as low temperature as possible. These features render rotary vacuum film evaporator to be ideally suited for evaporation of heat sensitive Materials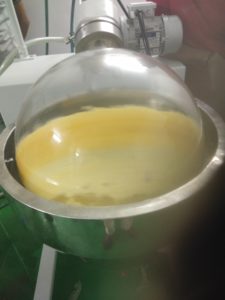 Different options of Rotary Vacuum Film Evaporator:
Rotary Evaporators are available in different Options and Models which is to be selected depending on Following Criteria
Size-1. Lab Model- 5 liter  2.

20-10-5

Model –(This is the multi-capacity y model in which three sizes 20 Liter-10 liter-5 liter evaporation flasks can be fixed 3.50 liter 4. 100 liter

Safety-Flameproof /Non-Flameproof Models
3.Validation- GMP –Non-GMP
4. Different Automation and control options-Semi Automatic- PC Compatible- Microprocessor controlled
5.Different Glass Distillation assemblies depending on Process requirement
Glass Distillation set up and Equipment can be customized as per applications and process Requirement
6.Different Power Inputs depending on Country's Voltage systems
Salient Features of Rotary  Evaporator
Best vacuum sealing with Dry Mechanical Seal. All Contact parts are of Glass or/and PTFE, which extends its life and reduces downtime
A special arrangement is provided such that a single person can dismantle hot flask safely
Operator Friendly control panel

Combo models are available for Solid-Liquid Extraction and Concentration

Please send us your requirements  on 

[email protected]

and
     +91-7990397491(Whatsapp) 
One more interesting article
Why Vacuum control is necessary for Distillation or Evaporation in Rotary Evaporator
Rotary Evaporator-Rotovap-Scientific Rotavap